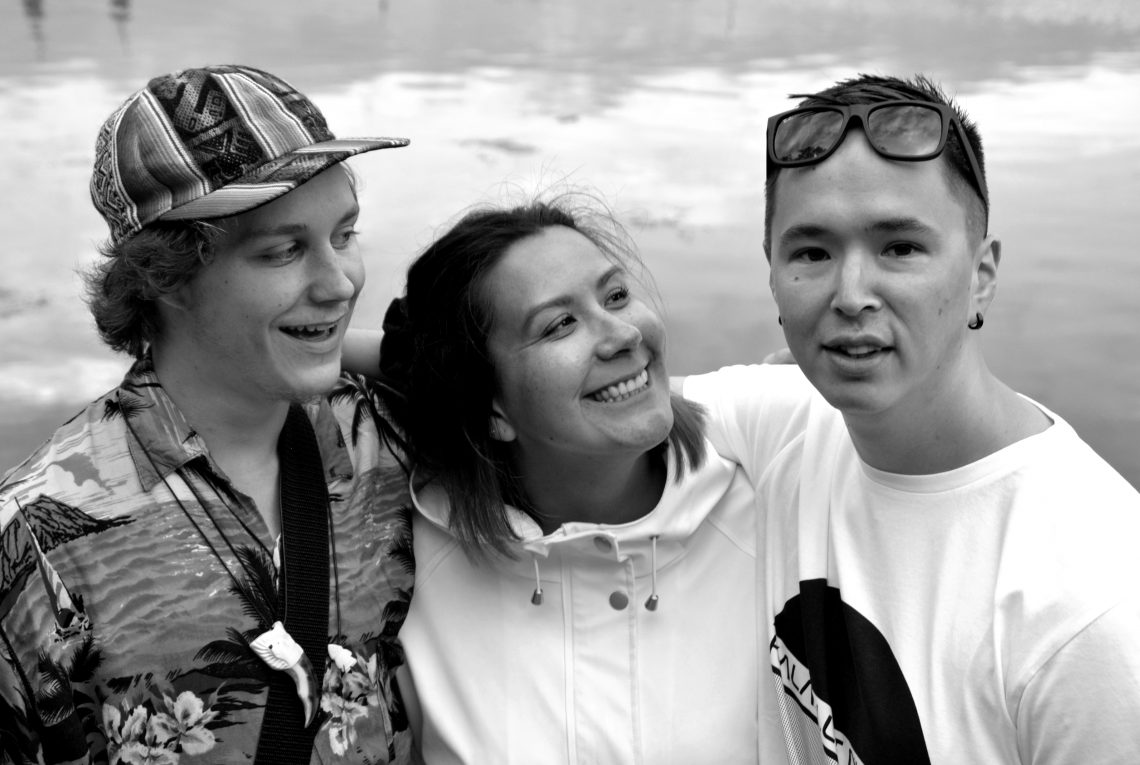 Interview Greenlandic band TIU
When opposites attract, sweet music emerges
The songs on TIU's award winning debut album "Nuunneq" came into being in a few intense weeks shortly after singer Pernille Kreutzmann and guitarist Ivik Larsen met for the first time in June 2016. Chemistry and a twist of fate meant that in just two weeks they had created singer-songwriter music unlike anything Greenland had ever heard before. On their musical journey, they also fused together as a couple. Today they are an award winning band and have taken reviewers and fans by storm. But first and foremost, they just make music for their own sakes.
◊ By Felicia Lensborn ◊ Cover photo: Nadine Lensborn ◊ Translated by Tine Friis Kelstrup from danish interview published Oct 31st 2019. 
When I lived and worked in Greenland's capital Nuuk for five and a half months in 2018, I listened to TIU's songs almost every day. Even though I couldn't understand a word of the lyrics, which are in Greenlandic.
When the band came to Copenhagen in late summer 2019, I wanted more than anything to decode the strange language and the beautiful sounds that had engulfed me for so long. Seven concerts, one interview, one chat at a café and a photo shoot later, I finally understood why the music had tugged so vehemently at my heartstrings.
Behind the many metaphors and forgotten Greenlandic words of the lyrics – many Greenlanders today don't even understand them – some very personal but also universal stories about love and sorrow lie hidden; about the forgotten identity of Greenland and about the need to prolong the moment when a snowflake brushes one's cheek.
Behind the Danish bass player Alfred Victor Hansen's colourful clothes is a young person who is passionate about music. Like me, he has fallen in love with Greenland, and he has fearlessly taken up the challenge to master the Greenlandic language.
Behind the founders of TIU are two people with very different backgrounds and personalities who found each other in and beyond the music. Their dreams for the future do not revolve around fame but around making music because that is what they are passionate about.
Join me on my exploration of the lyrics and the universe of TIU, which also gives us an insight into Pernille's and Ivik's stories. It is a journey back and forth between Greenland and Denmark, between the past and the present, and between the special and pivotal moments in the greater tale.
Song #1: "Aputsiaq" - the now of a snowflake

Nuuk, Greenland, February, 2018
"Is there any good Greenlandic music you would recommend?" I ask.
The guy behind the counter bends down and finds a couple of CD's after I have told him what kind of music I like. I ask him on an impulse. We are in a store that sells seal skin products, stunning carved soapstone figures, jewellery made from reindeer and walrus bone, and musk wool knitwear. But in the background I hear music, and experience tells me that the locals have the best tips.
Only a few days earlier I was almost caught in a snowstorm, but today the sky is pale blue and caressed by the sun over the town where I have stayed for about a month. One month in which I have tried to settle in at my new job and find my way around a new town in a new country. Today I'm having a go at being a tourist for the first time. And I am also looking for some Greenlandic music. There are only 56.000 inhabitants in Greenland, but the selection is by no means meagre. When I have passed the wall of CD's of – to me – unknown artists in Brugseni in the town centre, it has seemed overwhelming. And I haven't even gotten around to visiting the town's music store, Atlantic Music.
To live in an isolated place in the midst of spectacular, fierce, and beautiful nature appears to inspire creativity. Greenland is a country with not only a lot of musicians but also painters and sculptors. The country abounds in all sorts of often locally produced handiwork such as jewellery, knitwear, and accessories made from and inspired by Greenland's nature and animal life.
The guy behind the counter wears a necklace and rings made from Greenlandic animals. We talk about them. His hair is jet black, the eyes dark and friendly. While he puts on the CD, he tells me that he knows the band and that the woman who sings is one of his good friends.
He says, "The first track is called 'Aputsiaq'. That's my name too. In a way the song is about me, too."
He smiles self-consciously when the music starts and the soft sound of a guitar fills the room.
"It sounds awesome," I say.
It is exactly the kind of singer-songwriter style I like. After 25 seconds the beautiful voice of Pernille Kreutzmann resonates through the store.
*
Copenhagen, Denmark, August, 2019
"Aputsiaq" is the first track on TIU's debut album. It is always the first song they play at their concerts, and it was the first of their songs that I heard. Aputsiaq means snowflake.
"It was the first song we made together," Ivik, TIU's guitarist, says.
In the centre of Copenhagen I have met up with guitarist Ivik and Pernille, the singer in TIU, to talk about their lyrics. They have travelled all the way from the Greenlandic capital Nuuk to Copenhagen to give a number of concerts. When we meet, they have played at "Greenland in Tivoli"; two days each year, Tivoli abounds with stalls offering Greenlandic design and art, and a number of Greenlandic music artists taken to the stage.
We start out by talking about the song "Aputsiaq", one of my favourite songs from their debut album.
They had only just met when they wrote the song. They were both on holiday and none of their friends were home. There was no stress and no disturbances. They began talking about writing songs together because they had the time and they liked it. It wasn't something they were planning on presenting to the world.
Ivik had already made the intro to the tune, and that became their starting point.
"We discuss the songs before we start writing them," he says. "How we feel about them."
Pernille says, "When we wrote the song, we talked about what we liked in that exact moment. It was just the two of us. We got to know each other. We stayed together night and day for a fortnight and we just wanted to stay right there."
"In the now. The present moment," Ivik adds.
Pernille continues, "That was what we were writing about when we wrote the song. We come from Greenland, and snowflakes are like perfectly pure downs falling from the sky to the ground. It defines Greenland. It is that feeling when a snowflake drops down and touches your cheek. We wanted to hold on to that exact feeling. That is the reason why we chose that name for the song."
Pernille explains that Aputsiaq, whom I met in the store, is one of her best friends. He has given her the courage to stand up for who she is.
Pernille Kreutzmann, Christianshavns Torv, august 27th, 2019 ◊ Photo: Nadine Lensborn.
Pernille Kreutzmann - playing with the words of the Greenlandic language
We travel back in time to many years ago. Evening is descending on the Greenlandic settlement Niaqornaarsuk. If you zoom in on one house, you will be able to observe this scene. In the living room a woman is singing. A man is conducting. They are rehearsing. They are both in a choir, and the song is not working out. They sing it again and again. In a room in the same house a little girl is asleep. Well, she isn't really because the song is keeping her awake. She is hearing the same song over and over again. Finally the little girl gets up. Enough is enough. With measured steps she walks into the living room and sings to them. "You have to do it this way," she says. And then she goes back to bed.
The girl is Pernille and she has been singing for as long as she can remember. Her mother was a soprano in a choir and they always held rehearsals at their place. Her father was a conductor. She vividly remembers the episode that night when she stomped into the living room and corrected the grownups. She was about six or seven years old.
You immediately notice that Pernille Kreutzmann has an extraordinary voice. She masters everything from the delicate and soft notes of "Aputsiaq" to the powerful tones of "Ilisiitsoq".
She uses her unique voice at several of TIU's concerts in Copenhagen and she generously shares the personal stories behind many of the songs. The audience gain an insight into her childhood when Pernille tells the story about how her longing for her biological father led to her asking her mother's "friend", who later became her (step)father, if it was okay with him if she called him dad. One of the tracks on the record is a tribute to him. She sings about her stepgrandmother whom she lost.
*
"The reason we sing in Greenlandic and not Danish or English is that you can't make an accurate translation. You just can't. We can talk about what the lyrics mean, or what the song is about, but not word by word. I have tried."
Pernille Kreutzmann laughs her signature laugh to emphasize her point. A laugh she generously shares on stage and a laugh that I will come to hear a lot during my time with her.
Pernille explains that the Greenlandic language offers the chance to play with the meaning in the way you inflect the words and the placement of the words in a sentence. In that way, the meaning of the sentences changes every time you hear them.
She mentions the word Naasoq, a word with three different meanings. It can mean flower, something that blossoms and something that ends:
"You can do it in a cool way so that it can be understood in several ways. That is what I like about it. That is what I am passionate about."
She is a chip off the old block. Her father teaches Greenlandic. He has taught her everything he knows. She discusses the lyrics with him before they are sent off into the world.
"When we were about to record the songs, we discussed the lyrics. We wanted to play with the words and inflect them in a way that gave them a personal meaning for anyone who heard them."
Pernille also explains their plentiful use of metaphors in the lyrics:
"We like to have something tugged away so that you have to listen to the lyrics several times to understand them. You have to interpret them."
Pernille holds her cell phone in her hand during concerts and glances at it in between verses when she sings. Not because she can't let go of the world outside but because she has to have the lyrics close by so that she can read them.
"I like to play with words, and the Greenlandic language is little difficult to learn. Even Greenlanders can't always understand it. We apply words that are not used in everyday language anymore," she says. "There are a lot of words that people don't understand and ask about."
"A lot of people asked what some of the words meant when we wrote the songs," Ivik adds.
Greenlandic is challenging for Greenlanders, too. There are three different dialects in Greenland and like everywhere else the language is evolving. Pernille and Ivik have dug deep and retrieved a lot of forgotten words because they want to make Greenlanders proud of their language.
She explains that the Greenlandic language is all about the body:
"If I say some words about speaking in Greenlandic, I am actually talking about the tongue. It is weird but if you want to learn the language, you have to learn what you call all sorts of things in the body."
"It's actually rather romantic even if the language doesn't sound all that romantic."
◊ Top: TIU Operaen, Christiania august 29th 2019  ◊ Pernille Kreutzmann, Copenhagen Songwriters Festival, august 31st 2019 ◊ Ivik Larsen, Greenland in Tivoli, august 1st 2019 ◊ Photos: Felicia Lensborn. 
Song #7: "Akkortoq" & song #8 "Ilisiitsoq" - The lost culture of Greenland

Greenland in Tivoli, Copenhagen, July 31st, 2019
While TIU plays, the audience is hidden under waterproof ponchos and umbrellas. The rain is unpredictable today. The music on stage seems to foreshadow some kind of calm before the storm. Ivik's guitar sounds like a babbling brook. The bass is dominant and sounds like a storm is brewing. It is a glaring contrast to bass player Alfred's colourful orange outfit. A female dancer comes on stage, almost crawling like an animal on all fours, before she gets up and turns with a smile and her curious eyes scan the crowd.
But the atmosphere abruptly changes. As the piece "Akkortoq" fades into "Ilisiitsoq" the dancer sits down and moves as if she's digging for something. When the song starts, the dancer paints black lines down her face and red lines on her body. While Pernille's dramatic voice fills the stage, the dancer looks down at her body as if it is suddenly alien to her. Then she sends a searching gaze out over the crowd. She alternately writhes her body to the music and turns to the audience with a body language indicating that she wants to give them something.
"The red and the black paint symbolize blood and earth," Pernille says.
"The title, 'Ilisiitsoq', has two meanings. It means someone who didn't know any better, and it means a female witch. The lyrics include both meanings."
Initially the song is about a man who has had a hard life and who has a lot of scars to prove it. People put mud in his face but he draws a red line in blood to scare them away. Then there is a woman who has lost her husband and is viewed as worthless. That is why she tries to piece herself together.
"She tries to pick up the pieces because she has lost something… somebody took something from her. The dancer uses her body language to show what the woman in the song is doing. She is picking up fragments like archaeologists. She is gathering fragments of herself and offering them to other countries. That is what happened when the archaeologists came and took things from our country and sent them to their own countries and sold them."
Pernille is studying cultural and social history at Ilimmarfik, The University of Greenland in Nuuk, and like the Greenlandic language these are obviously topics that preoccupy her immensely:
"When strangers from abroad came to Greenland, our things were traded for something that doesn't mean anything to us even though it was of value. But the things we had were worth so much more, and we have just given them away in exchange for coffee, tobacco, or alcohol."
Towards the end of the song, the kayak becomes a metaphor for the way in which Greenlanders have sold off their culture:
"A kayak is shaped in a certain way. It is a bit like a human rib. It was covered in animal skin and could be used as equipment. In this song it has lost its skin and you can clearly see the bones protruding and the oars floating away."
"As I said, history lies kind of hidden in all of the lyrics," Pernille says.
It is up to the listener to find out that the lyrics are about the history of Greenland:
"Even for Greenlanders it is difficult to understand the meaning. You have to analyze the lyrics if you want to understand the song."
Pernille holds a lot of strong opinions and her songs exude social criticism, but Greenland affects her in other ways as well:
"There are also lyrics that are very beautiful with colours and the fragrance of nature."
How important is nature in the lyrics? How important is it when you live in Greenland?
"Very. I get claustrophobic if I can't go for a walk. And hear the wind…"
Other than the first track, "Aputsiaq" (which means snowflake), are there any other songs about nature?
"Yes, the song 'Upernaaq'. That means spring."
Spring, is that something you look forward to in Greenland?
"Yes, the song is about the feeling of dripping water, seeing the waves and the stars," Pernille says.
Ivik Larsen, Pernille Kreutzmann & Alfred Victor Hansen, Copenhagen september 1st 2019 ◊ Photos: Felicia Lensborn 
Bass player Alfred "Creature" Hansen - Colourful clothes and a great love for Greenland

Sisimiut, Greenland, April, 2019
A brittle sun hovers over Sisimiut, Greenland's second largest city, while a feeling of anticipation is buzzing below. The annual Arctic Sound Festival is about to start. A five day festival that celebrates Greenlandic as well as Nordic and Arctic music. The festival proffers newly written music and planned as well as spontaneous concerts crop up all over the city. A young man is walking down the street. He is here for the festival. Especially because TIU is playing. Little does he know that soon a moment will arise that will change his life. Right now he is just hungry and on his way to Brugseni to get something to eat. Maybe he is thinking about how lucky he was to get tickets to the boat from Nuuk. He booked his ticket at the very last minute. He almost didn't go at all. He didn't have a place to stay here, and he really couldn't afford it, either. But TIU was playing and that tipped the scales. He is roused from his reveries when he passes a car by the side of the road. The door is opened and someone shouts, "Aluu – sumut? Do you need a ride?" He pokes his head into the car and it turns out that he knows most of the passengers. He gets in without saying where he is going.
The young man is Alfred Victor Hansen. He says that he can't walk the streets in Nuuk without bumping into someone he knows. It is not only his colourful clothes that make him stand out in a crowd. When you meet Alfred you are confronted with a person that possesses a unique directness and openness to the world. I witnessed it myself when I was in Nuuk in 2018 and met Alfred several times in the city.
That afternoon in Sisimiut when Alfred gets into the car, he has been living in Nuuk, Greenland for one and a half year. He has just been back to Denmark for a few months. Now he is back in Greenland. The Arctic Sound Festival in Sisimiut in April 2019 ends up being pivotal and Alfred's entry point into TIU and his current role as bass player in the band. We will come back to that.
First let us fast forward a couple of months from the walk in Sisimiut to Christiania on August 29th 2019. We are backstage after TIU has given the sixth out of seven concerts in Copenhagen. This time in Operaen in Christiania. We are talking about photos. My sister is there and Pernille is crazy about a photo my sister has taken of her a few days before when TIU played at Christianshavns Torv. In the photo Pernille bares her teeth and her eyes are wild. Pernille says she has a picture of Kurt Cobain at home that she loves and which reminds her of this one. She would like a black and white version of the photo next to Cobain. This prompts Alfred to tell us about a similar photo of him taken at one of TIU's concerts. Their concert at the Arctic Sound Festival. Back then he was still just "TIU's biggest fan, Alfred" as TIU captioned the picture on Instagram.
"It looks like my face is falling apart. My jaw has dropped down onto my chest and my eyes are bulging," Alfred says. "And a tear has flown out of my eye and hit the camera lens."
He zooms in with his fingers on his cell phone. It is true. A tear is glistening in the periphery of the photo.
It was during the song "Ilisiitsoq". A song that moved Alfred deeply the first time he heard it shortly after TIU's debut album had been released. He remembers that he was playing Scrabble with the family he was staying with in Nuuk, but he kept interrupting the game because he was completely blown away by the exceptional beauty and wildness of the music.
It seems crazy to him that back in April when the photo with the tear was taken he was just TIU's greatest fan, and now he is on stage with them only a few months later.
But how do you go from being the biggest fan of the new shooting stars of Greenland to being on stage with them? You grab the chances you get and then you make an effort. A strategy Alfred has observed ever since he got his first guitar, a Spanish model, at his 12th birthday and took his first tottering musical steps.
His parents had long wanted him to play an instrument, and he didn't dismiss the idea: "Girls were becoming a bit interesting, and I had heard rumours that boys with guitars were very popular with the girls.
He laughs and says:
"And I heard a lot of music. I loved music. It was already a big part of my life back then. Soon the love of music took over and that was the reason why I kept playing music."
Alfred takes up bass-playing instead of the guitar when a better guitarist starts in the class at the music school in Gentofte where he is playing. The teacher asks Alfred if he wants to play bass. This becomes a bit of a revelation. On bass Alfred can play all his favourite songs from Rage Against the Machine, who does electric guitar tracks that he couldn't play on his Spanish guitar. He makes progress at his continuation school. There are a lot of guitar players but he is the only bass player.
Before going to continuation school towards the end of ninth grade, Alfred decides to adopt the stage name "Creature". That was what he was called in school. He was bullied for being different, wearing curious colourful clothes, laughing in a weird way, being leftist, caring about the climate and the environment, and having "unrealistic" dreams about being a musician:
"In the ninth grade, I remember that I bought a nice white Ralph Lauren shirt because that was what the others wore. When I had worn it a couple of time, I decided never to wear it again. It felt unnatural to me. I realized at I had tried to change because of them. I noticed that they began treating me nicer when I wore it, and it hit me that they treated me badly because of something as trivial as clothes."
Alfred realizes that the things they are teasing him about in school are things that he is actually proud of:
"Creature is like a being. I realized that I am just a being. I don't want to feel superior to other beings (other animals) just because I am human and I am proud of that. I believe that people have more in common with animals than most people think. So I have just chosen to own it and adopt that name as an artist."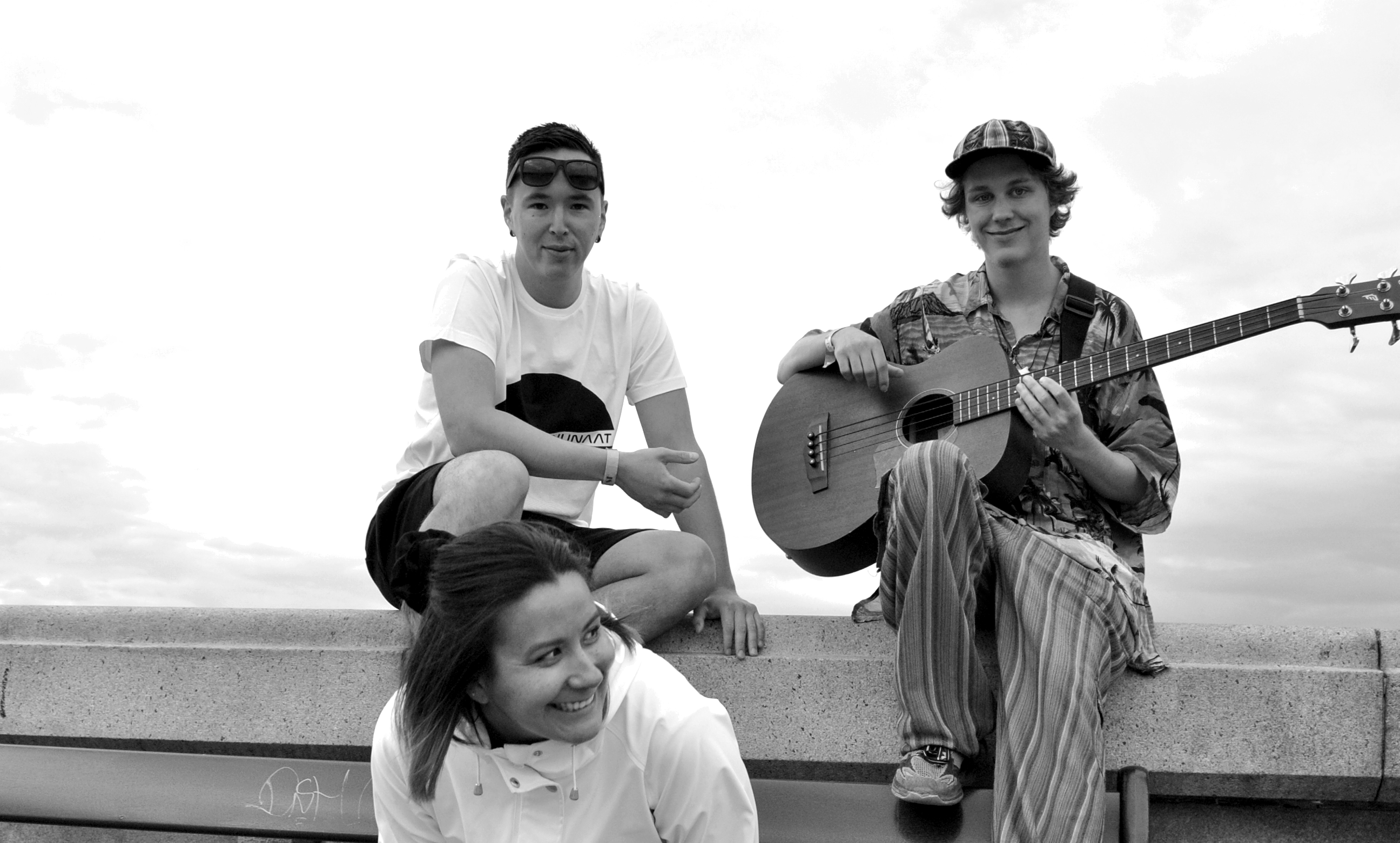 ◊
Ivik Larsen, Pernille Kreutzmann & Alfred Victor Hansen, Copenhagen september 1st 2019.
Photo: Nadine Lensborn. 

Before Alfred goes to Greenland in 2017, he has attended a music school for a year and played music every day. He continues practicing in Greenland. Alfred goes to Nuuk, Greenland when he is 18 years old because he has become fascinated by the city the year before when his family went there on vacation. He gets the opportunity to stay with a Danish family in Nuuk.
When Alfred meets new people in Nuuk, he says, "Hey! I play music!" After a while he starts playing with others, and he enrolls at the music school in Nuuk. After living in the city for six months, things change:
"I get some Greenlandic friends. I have many Danish friends, and all of a sudden I only have Greenlandic friends. All the Danes have gone back to Denmark. I was like: "I'm not going back there!" I started spending more time with Greenlanders, and I became interested in learning Greenlandic."
One summer he goes to northern Greenland to places where there are few or no Danes, and his language skills rocket.
"After two and a half months when I was back in Nuuk, something really just clicked," Alfred says.
"I had travelled and met a lot of new people and it was overwhelming coming back to Nuuk and realizing that I had so many friends there. Wow! This was 100% my home. I didn't even feel that Denmark was my home away from home anymore. I hadn't been to Denmark for over a year and I hadn't missed it for a second. All my friends in Nuuk were Greenlanders. I had the feeling of fitting right in in this place, in this culture, with this people. I have been treated with so much kindness, and I want to show them respect by learning the language and committing myself to it."
So on that sunny day in Sisimiut when Alfred gets in the car, he knows a lot of the musicians sitting there. As it turns out the group is on their way to a songwriter workshop for young people: "And I was just like: 'Oh! Can I join you?'"
It turns out that Alfred is on his way to a four week intensive songwriter workshop. They start at nine-ten o'clock in the morning and work until late at night. About 12 hours a day. This is where he meets Pernille and Ivik. They are not here for the workshop but they hang out and they also hear Alfred play. On the way back to Nuuk, the boat is filled with all the musicians from the festival, and one night Ivik and Alfred ends up jamming after everybody else have gone to bed. Back in Nuuk they play together at several jams, and when TIU needs a new bass player, Ivik and Pernille asks Alfred if he wants to join the band. They need a bass player for the concert at "Greenland in Tivoli" in Copenhagen.
"Ivik has played for as long as I have been alive," Alfred says:
"He has been playing three times as long as I have, and Pernille has always been a singer. It is amazing that they want me."
Shortly before "Greenland in Tivoli", Alfred ends up touring Greenland with TIU. TIU goes on a small tour to four towns at Disko Bay to raise money so they can go to Denmark.
"Tivoli is a big thing. I have to fucking excel on that stage because it is a big stage. I have to earn my place there."
He also joins them to gain some experience in playing concerts with TIU. He says, "It is not the same as rehearsing in a practice room."
Alfred has moved from practice room to reality. Not just as regards the music but getting the hang of the Greenlandic language as well. At several of TIU's concerts in Copenhagen, he gets involved in the action on stage when Greenlandic words are being explained in Danish or pronounced. It is especially impressive at a concert when Pernille turns to Alfred and asks him to pronounce "happy Greenlandic national day". With no apparent effort Alfred says, "Inuiattut Ullorsiornitsinni pilluaritsi".
That is a sentence he learned when they played in the town Qasigiannguit on their tour:
"We all loved being in Qasigiannguit, and we played outdoors in the afternoon on the national day, June the 21st. The sun came out, and people were having a barbecue and enjoying the music. We played with the mountains both behind and in front of us with a view of the water and the icebergs. The atmosphere was just very special," Alfred says and points out that his profile picture on Facebook was taken that day. While they played, he thought:
"'This is the dream, and it is amazing. Damn, I am happy.' It was like this crazy happiness that just coursed through me."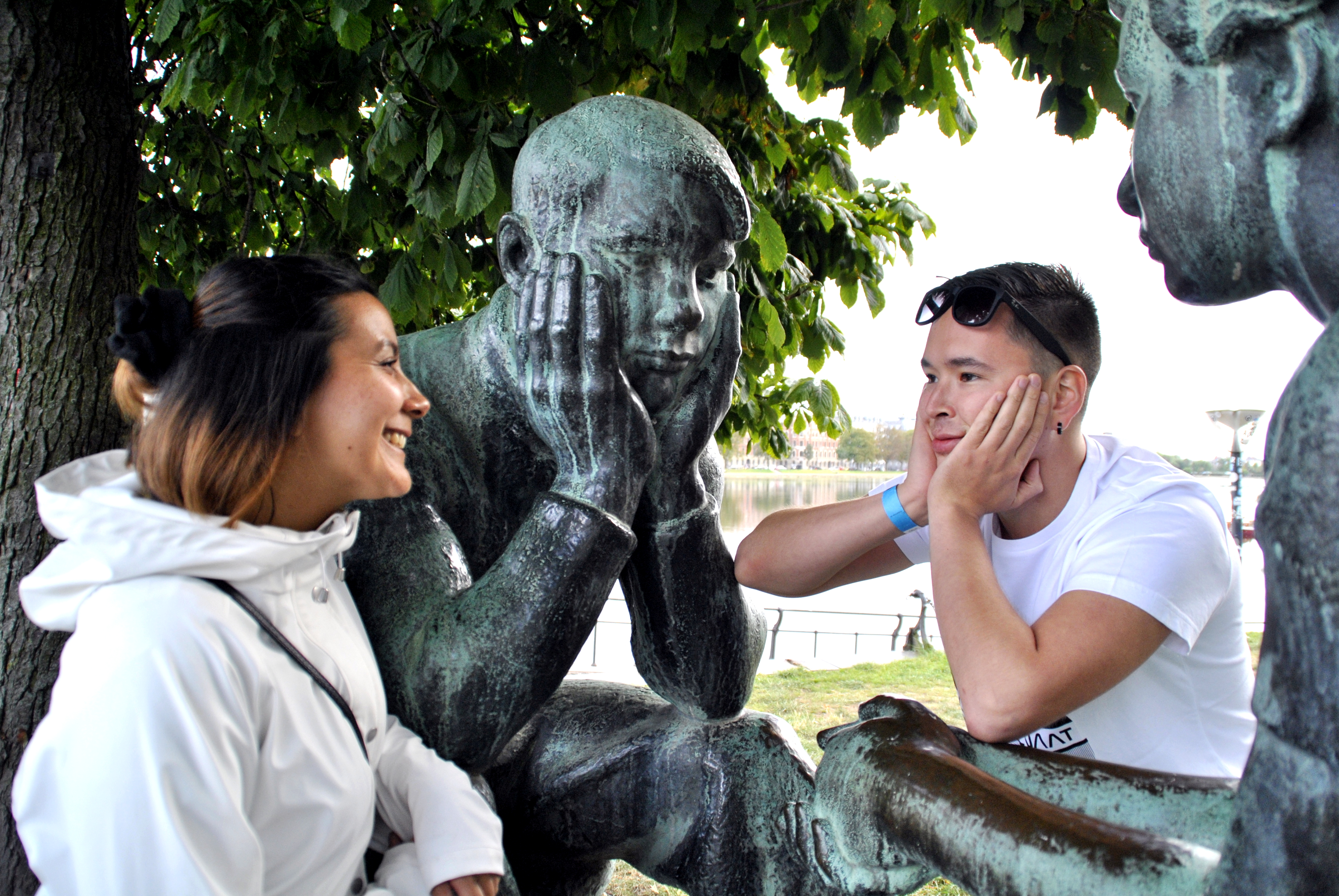 Pernille Kreutzmann & Ivik Larsen, Copenhagen september 1st
 2019 ◊ Photo: Nadine Lensborn.
Song #4: "Ataasiuleratta" - We become one
"When opposites attract, sweet music emerges" sounds like a cliché, but in Ivik's and Pernille's case it seems appropriate. Many clichés come into being because they are rooted in reality. In this case sweet music literally arose when they wrote their songs but later they became a couple as well. The way in which destiny brought them together also sounds like scenes from a movie script which someone would rightly have rejected with the objection, "It sounds too much like a cliché."
Ivik and his friend Gerth wanted to record some music and decided that they needed a female singer. So what do you do? You post a request on Facebook which almost everyone in Greenland uses: "Who can you recommend?" Someone tagged Pernille and so they wrote to her.
"We met on June 2nd, 2016 on Café Iggu in Nuuk with Gerth," Ivik says.
As fate would have it, Gerth was out travelling because of work, and Ivik and Pernille were left alone back home. They felt a connection so they soon started writing songs together. When Gerth came home, Ivik and Pernille had already finished all the songs.
"I have always been crazy about him," Pernille says about Ivik. "He didn't know I liked him but I tried to say it through the lyrics…"
We talk about the fourth track on the album, "Ataasiuleratta", which means "we become one". Even though Pernille tried hinting to Ivik how she felt through the words of the song while they wrote it together, it took a while before they became one when they were not making music. Ivik explains that there were other things to consider; Pernille's ex-boyfriend was one of Ivik's old friends, and he held him in high regard.
A year after their first meeting, around the time when the songs were to be recorded, Ivik gave in and today they are a couple. They don't try to conceal their differences.
She grew up in the small settlement of Niaqornaarsuk and the second largest city of Greenland, Sisimiut, and he comes from the capital Nuuk. He has never tried hunting which was a part of her upbringing. She is lively and talkative, and he is serious and reflective. Being a lonely child, his upbringing was marked by neglect, loss and loneliness, and she grew up with her siblings in a close-knit family.
And then there is the language.
"I grew up in Nuuk. She grew up somewhere else. Misunderstandings are bound to occur," Ivik says. "I talk like someone from Nuuk, and she often misunderstands me and thinks that I am grumpy."
"Numiuts talks like… They have an attitude," Pernille says.
They explain that people from Nuuk are called Numiuts.
"There are different attitudes depending on where you are from," Ivik says.
I am born in Sisimiut, and their language is a bit old-fashioned. Numiuts are a bit more gang-like," Pernille says.
"His Greenlandic is more modern, and my language is more mixed. Sometimes it is difficult to understand each other, and we often have to say to each other, "Don't take it the wrong way when I say this and that."
Song #2: "Ersarinnera" - A call out to Greenlanders
"I wrote it like that because it is meant to provoke," Pernille says.
"So that Greenlanders could see themselves through my eyes. Why they are where they are. Politically. It is like: 'Greenland, look at yourself. Like I see you. You are beautiful. You can do this. But what are you doing?'"
"Ersarinnera" means something like "distinctness" or "something that is distinct". In the music video for the song, Ivik is playing guitar with a white map of Greenland painted on his face.
"The map symbolizes that he is the country. He lives here but he can't do anything," Pernille says. "The lyrics are about the forgotten history of Greenland."
"I am a Greenlander but I don't feel like a Greenlander," she says. "Even though I speak Greenlandic. Live in Greenland. But I have to live like everyone else. We have lost our identity."
You say that you don't feel like a Greenlander. Do you mean something like: "I live a modern life like people do everywhere else. There is nothing in my life that is particularly Greenlandic"?
"Exactly. I sometimes think: 'I am basically Danish. I have a Danish passport, and we are a part of Denmark.' All the things we have come from other places. The only thing left to us that we ourselves have invented is the kayak – and that is being used in sports now – and our national costume."
Pernille points out that it is a sensitive subject before she continues:
"But clothing and things don't define our identity. It is part of our soul. What we believe in. What we want out of life. Our understanding of life. That is so much more important than just showing what we have got."
She explains how the Greenlandic identity has been lost in time. How the Greenlandic language changed, acquired new sounds, and how words got new meanings when outsiders began arriving. When she was a child, they had to speak Danish in school when a Dane entered the room: "We had to show a person respect who didn't understand us. Why not learn our language?"
"I am wondering how to translate this from Greenlandic. First I think in English because it makes it easier to say in Danish. Three languages at once! It is very difficult."
She explains that she herself struggles with thinking in Greenlandic, and when she is talking about something serious, she only speaks Danish:
"Sometimes when I wake up, I can't speak like real Greenlandic. Sometimes when I wake up, I want to speak Danish instead."
But she also explains that she has met Greenlanders who don't think she looks like a Greenlander because her grandfather was French. Greenlanders themselves tend to be prejudiced towards each other:
"For me the Greenlandic identity is about having the courage to stand up for who you are without judging one another," Pernille says. "You are who you feel you are."
She also thinks that you should refrain from focusing on the things that is lost forever. Greenlanders should be proud of themselves as a people today. A mixed people as regards blood, population and culture. But she does admit that it is a complex issue. Greenland's past and present are many-faceted and there are many ways to perceive them. She would never say, "This is the way it is."
"It depends on where you are from. Living in Nuuk is different from living in a settlement with 200-300 people," Ivik adds.
After talking about the subject for a while, he interposes:
"There are no words in the lyrics that suggest that the song is about Danes or Greenlanders or some of the things you have been talking about."
He points this out several times when we talk about the different songs. TIU's lyrics are riddled with metaphors, and as previously mentioned it is almost impossible to translate them word by word. That is why they both lapse into English from time to time while trying to explain what the lyrics are about.
The refrain sounds something like: "Time will pass, the clearness will come, towards you."
The lost identity of Greenland shines through the metaphors of the lyrics when Pernille sings about someone who has lost their smile and can't find it because it lies hidden under the soil.
Ivik Larsen, Pernille Kreutzmann & Alfred Victor Hansen, Copenhagen september 1st
 2019 ◊  Photo: Nadine Lensborn.
Ivik Larsen - speaking through music
Copenhagen, September 1st, 2019
According to the calendar and the temperature it is autumn. The sky varies between a pale grey and bluish late summer. Yesterday TIU played their last concert in Copenhagen. Today is Sunday and we all need coffee. We are sitting in a cafe, and the waiter is trying to keep track of the orders that keep flying across the table: Americano, cafe latte, cappuccino and hot cocoa. He has to check if they have hot cocoa as it is a winter thing. He comes back to confirm. Pernille, Ivik, Alfred, and I are sitting at the table. And my sister is there to take pictures.
It is Pernille's and Ivik's last day in Copenhagen. They are going back to Nuuk after a month in Denmark. Luckily they have time for a photo shoot, and we have agreed to take the pictures by the lakes. But first we have to have some coffee.
They have played seven concerts in the past month. TIU has gone on Tivoli's big stage twice for "Greenland in Tivoli". They have created intimate spaces at Café Nutid and in The Greenlandic House. They have let the Greenlandic language soar across Christianshavns Torv. They have touched the audience from the stage in Operaen at Christiania. Last night they completed their small tour in Copenhagen at Copenhagen Songwriters Festival.
On stage Ivik has kept to his guitar while Pernille has managed the words. She has not only been singing. At several of the concerts she has introduced the songs by telling the very personal stories which lie hidden in the many metaphors of the lyrics. Her own stories as well as Ivik's:
"He has allowed me to tell it on stage," she says. "He tells his story and shows his emotions through music. He finds peace of mind in music."
As we are sitting at the cafe enjoying our drinks surrounded by the cosy interior and soft lighting, Ivik opens up about his life. His upbringing was especially difficult as his parents got divorced when he was nine years old.
He sighs and says, "It's a very long story." He explains how he ended up in the wrong company as a child but none of the adults in his life noticed what he was doing. Because of neglect, he had already tried sniffing stuff, drinking alcohol and smoking hash when he was just 11 years old.
As the conversation progresses, Pernille takes over and begins to speak, and Ivik chips in and interrupts, but he seems to be okay with her telling his story.
It is not until later, after he has lost his mother in a traffic accident when he is 16, that Ivik strays into alcohol and hash abuse. When he is in the beginning of his twenties – shortly after becoming a dad, too – he moves to Denmark for a year where he stays with an aunt, and he decides to turn himself and his life around.
There is another story too, though. The one about the music. Ivik begins telling it as we are on our way to the cafe.
About the time when he was a child and was visiting a friend from school whose father was a concert technician and had bought a Gibson SG Custom guitar. Ten year old, Ivik admires the guitar and gets to try it out. He tries playing a Marilyn Manson song on the guitar and he is rather good at it. He senses that he has an ear for music and shortly after this he begins taking lessons in guitar-playing. He only turns up a few times. Then he teaches himself to play and listen and mimic rock albums like Siissisoq (a Greenlandic heavy band) and Marilyn Manson, and he learns a lot from his friends. After a few years, when he is 13-14 years old, he begins composing his own songs.
When he is 15 years old, Ivik wins a talent show in Nuuk with his band Nu-gen (New Generation) and they release six tracks on an EP with two tracks from the runner-up band. The style was punk rock.
Just before we step into the cafe, Ivik explains that it was actually tinnitus which later forced him to change to another musical genre. This is in many ways the reason why TIU exists at all: "I had to play some quieter music."
Song #12: "Tullissaanimut" - to lose
Café Nutid, Copenhagen, August 24th, 2019
The back of the room is packed with people at small tables and some seat rows have been put op. The air is filled with music and intense vibrations. The crowd is so small that "intimate concert" is an appropriate expression. The emotions from the stage are easily felt by the listeners. It is the last song of the concert. "Tullissaanimut". Pernille fidgets around on her chair. The words flow out slowly. Her gaze lingers on Ivik while she introduces the song. The song is about his story, she says. She explains that Ivik was 16 years old when his mother was in a car accident. She talks about the hard decision they had to make about turning off life support. She has written the song to show her appreciation of the story and the bond between the two of them.

While I am listening to the song, I am thinking that underneath the foreign language is that which I have felt all along. This is a song that affects me deeply at all the concerts. It is something about the tune. The emotions in Pernille's voice when she is singing. The atmosphere in the room. It is not until this fourth concert that Pernille tells the full story behind the song.
If you understand Greenlandic, however, you will hear another story in the lyrics, Alfred says when we are sitting at the cafe talking about Ivik's life. The lyrics are about a polar bear cub that becomes separated from its mother and doesn't know which way to go. Later it meets a raven which gives it a feather that will keep it warm.
The lyrics emphasize the many layers in TIU's music. Layers which have revealed themselves to me meeting by meeting, concert by concert, during the month TIU has been in Copenhagen. "Tullissaanimut" is the last track on the album and, as it turns out, the last TIU song I hear. It is the last song at Copenhagen Songwriters Festival August 31st which concludes TIU's seven concerts in Copenhagen.
While Pernille's intense voice, Ivik's moving guitar-playing and Alfred's quiet bass lead the song into our hearts, you can hear the storm outside with roaring rain and thunder. It is included in the video I record of their performance of "Tullissaanimut". TIU later posts it on their YouTube channel. While I listen I know that I have to stay in the moment and enjoy it. I know this is that last time I am going to enjoy TIU's music live – for a while anyway.
The cobblestones are wet with rain when I walk home after the concert, and I ponder how just a month ago I found TIU's music beautiful but full of strange words I didn't understand. And now their stories permeate me. From an entire country's history to the moment when a snowflake caresses your cheek. I think about the way in which Pernille, Ivik and Alfred have generously let me into their universe and into TIU's songs. I wonder at the universal language of music. Behind the strange words weaved into beautiful metaphors was the very thing I had felt in some way deep within. Emotions and stories that we all know. About life's beauty and pain. The story about love and grief. Powerlessness and joy. About gaining and losing. The universal and humane inherent to all of us – no matter who we are, where we live and where we come from.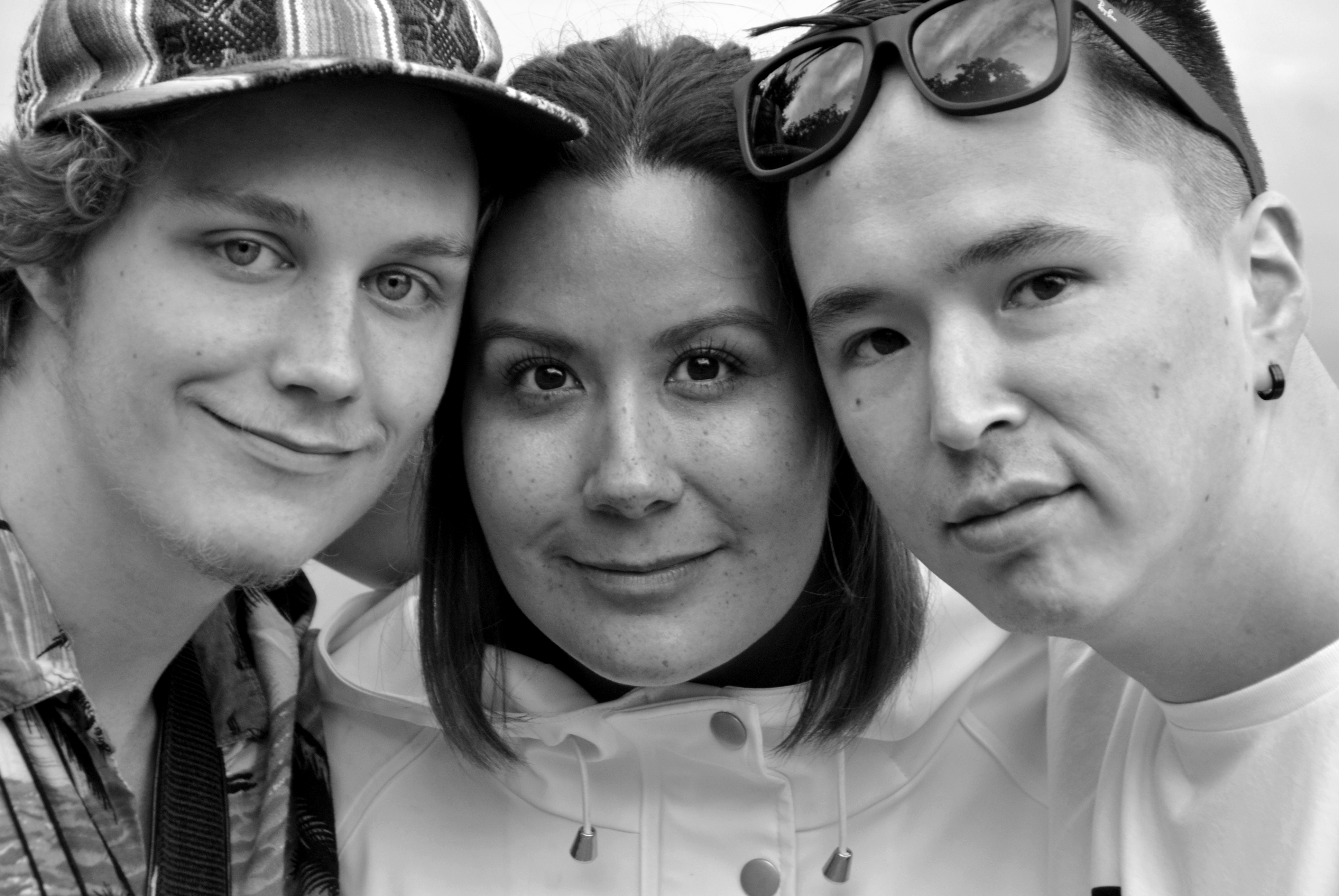 Alfred Victor Hansen, Pernille Kreutzmann & Ivik Larsen, Copenhagen september 1st, 2019
◊
Photo: Nadine Lensborn.

The band TIU
Guitarist Ivik Larsen, 30 years old, studies mathematics, English, physics and chemistry at Ilinniarfissuaq, The Greenland teacher's college, and works as a graphic designer at Maanuup Atuakkiorfia (Magnus' publishing house, which is owned by Ivik's grandfather).
Singer Pernille Kreutzmann, 32 years old, studies cultural and social history at Ilimmarfik, University of Greenland, and works as an illustrator at Maanuup Atuakkiorfia.
Bass player Alfred Victor Hansen (Creature), 20 years old, studies music at MGK Sjælland i Køge.
TIU´s debut album is available on iTunes and online at Atlantic Music.
See the music video for the song "Ersarinnera"
See TIU´s last live performance in Copenhagen, "Tullissaanimut", at Copenhagen Songwriters Festival